HIS KIDS PRESCHOOL
His Kids Preschool has been an important ministry of Oak Harbor Lutheran Church since 1993.  His Kids has earned a stellar reputation literally the world over, as Navy families in all corners of the globe have shared their good experiences at His Kids with families receiving orders to NAS Whidbey.  The word has spread in the local community as well, with many Whidbey Island families from a diverse array of backgrounds choosing His Kids for their children's early childhood education.
 This year classes will be held Monday through Wednesday, 9:00am – 12:15pm.
Each class has 16 children (a mixture of 3-year-olds and 4-year-olds) with a teacher and teacher's assistant. Our time in the classroom includes circle time, themed projects, and activities, weekly chapel, monthly field trips, and STEM learning on a 2-year curriculum.
Breakout sessions geared towards children turning 5 and entering kindergarten the following year offer activities focusing on reading and early math concepts.
His Kids Goals
We encourage development of self-discipline, a good self-image and the value of human life as shown in God's love through Christ Jesus.  We serve as an outreach of the Christian Church to help children develop spiritually, physically, socially, and emotionally with a readiness experience in preparation for public school.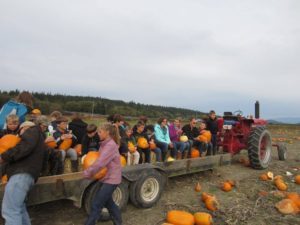 His Kids Policies
Our school calendar observes most of the same vacation days as the Oak Harbor School District. School will be closed in observance of the following holidays: Veteran's Day, Thanksgiving, Christmas vacation, Martin Luther King Jr. Day, President's Day, and Spring Vacation.
Registration and Tuition:
There is a nonrefundable registration fee of $100.00 due at the time each child's registration is received, with $50 of that going towards your last month's tuition. Monthly tuition is $200/month.
Tuition is payable by the 1st of each month, September through May, and may be deposited in the drop box provided in your child's classroom.  Please write your check to Oak Harbor Lutheran Church (OHLC) with His Kids Preschool on the memo line. For more information, or to register your child, contact Martha, our preschool secretary, at 360-679-1561 or [email protected].